Buying Property in Dubai? Discover the Hidden Expenses You Need to Plan For!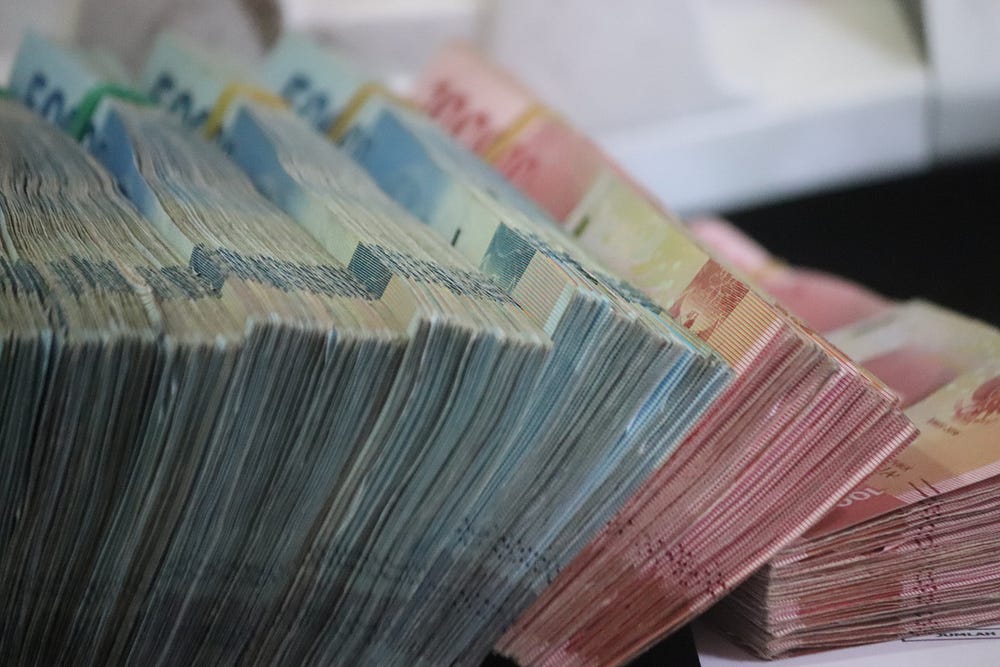 With the property market soaring and Dubai's more flexible residency rules, many expats are eyeing the shift from renting to owning their dream homes.
It's a game-changer while the market is sizzling, offering fantastic value.
But hold on! Before you dive into this real estate adventure, you need to know the nitty-gritty of the costs involved in buying property in Dubai.
You don't want any financial surprises, right?
So, here's the deal:
Purchasing property in Dubai is an exhilarating journey, but it's vital to be well-prepared and informed about the expenses that come with it. Let's break it down for you.
The Dubai Land Department (DLD)
First things first, your property must be registered with the Dubai Land Department (DLD) within 60 days of your transaction. Here's what you're looking at:
DLD Fees: 4% of the purchase price, plus an AED 580 admin fee for apartments or AED 430 for land transactions, or AED 40 for off-plan properties. Usually, buyers bear this cost, but it's expected that both parties share it.
Property Registration Fee: If your property is below AED 500,000, it's AED 2,000 plus 5% VAT. For properties over AED 500,000, it's AED 4,000 plus 5% VAT.
Mortgage Registration Fees: If your property is mortgaged, it's 0.25% of the loan amount plus AED 290.
Service Fees
Now, service fees are where your real estate agent and conveyancer step in to safeguard your interests. Here's the lowdown:
Real Estate Agent Fee: 2% of the purchase price, plus 5% VAT.
Conveyance Fee: Approximately AED 6,000 to AED 10,000, depending on your chosen conveyancer.
Mortgage Fees (Only if You Have a Mortgage):
Bank Mortgage Arrangement Fee: 1% of the loan amount, plus 5% VAT.
Property Valuation Fee: Between AED 2,500 — AED 3,500, plus 5% VAT.
If the property you're buying already has a mortgage, you'll need to clear it — either by settling it yourself or through the bank. Once it's paid off, you'll need a No Objection Certificate (NOC) to complete the transfer.
Home Insurance (Optional)
Though not mandatory, home insurance is a smart move, especially if you're buying a property to live in. It's relatively affordable:
Home & Contents Insurance: Around AED 1,000.
Life Insurance: Roughly 0.4–0.8% per annum on the decreasing loan balance, required if you're purchasing a mortgaged property, typically arranged through your mortgage provider.
Other Costs to Keep in Mind Don't forget these
Property Deposit: You'll need to cough up 10% of the agreed transaction value in a cheque made out to the seller. The real estate agent holds it until the property is officially transferred.
Service Fees: These are annual expenses that vary depending on your development. They cover the upkeep of the development you live in and should be factored into your property purchase considerations.
---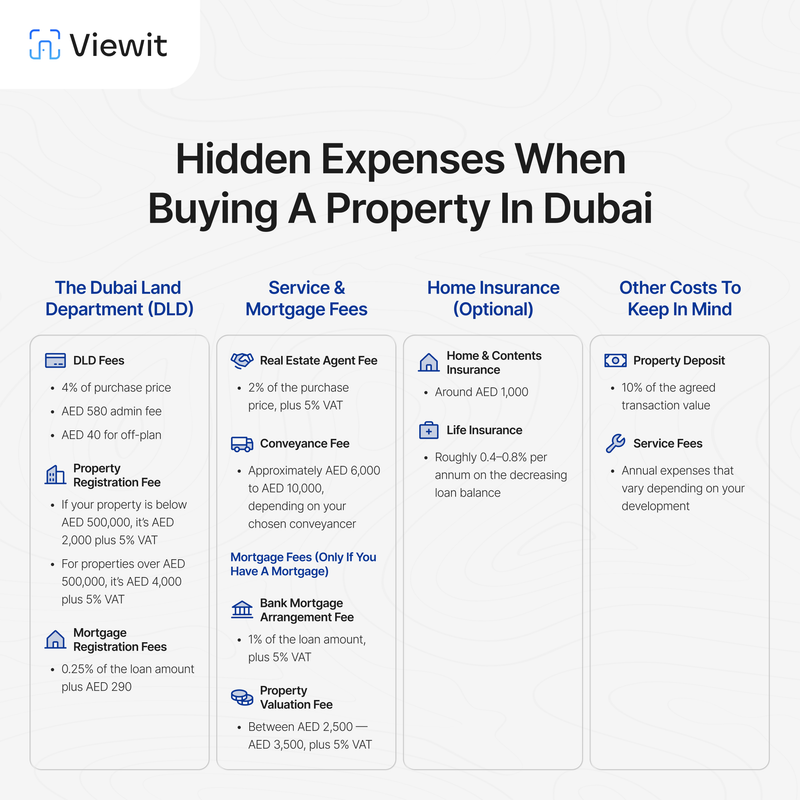 So, there you have it — the financial nitty-gritty of buying property in Dubai. It's a thrilling journey with fantastic opportunities, but remember to plan ahead and stay informed. No surprises here!
Ready to take the plunge into Dubai's dynamic real estate market? Visit Viewit for the latest property listings and expert guidance on your investment journey!
Happy investing!